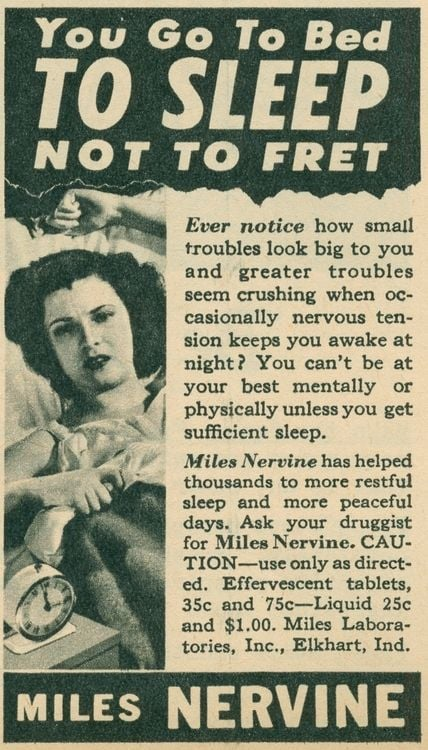 Obviously, this vintage ad is selling a magic elixir to "help people sleep" but science has shown there is no magic elixir or product that can make anyone sleep. Certainly there are products that can sedate you, but good natural sleep is not the same as being sedated.
It's tempting to reach for a tonic or pill to induce sleep but as so many of us have learned, a night of sedated sleep doesn't provide the same energy as a full night of refreshing, natural sleep. But what to do when the exhaustion is so overwhelming? It's hard to get through the day when sleep has been so elusive.
Sometimes we need a guide to help us get back to that natural cycle that provides the deep and restful sleep. Especially when it feels like we have lost our way. When that happens, it's hard to see our way out of the insomnia cycle.
A sleep coach can guide you through the process of resetting your natural sleep cycle. The sleep coach has been specifically trained to help you direct your thoughts and behaviors so that sleep can naturally greet you each night.
Sleep coaches help you get better sleep by learning more about your personal sleep situation, creating a plan and supporting you through the process of relearning how to sleep.
Just to be clear, working with a sleep coach is not about creating more rules and rituals around bedtime, it's about finding the right solution for you. If you have trouble sleeping and you have tried everything else. try working with a sleep coach.
The Benefits of Sleep Coaching:
Educational

- be prepared to learn a lot more about yourself and your sleep as seen through the lens of a person who uses the industry best practices model, CBT-i (Cognitive Behavioral Therapy for Insomnia) to look at your sleep
Personal Support - it's always easier to enlist the help of someone who has driven down a similar road as you. Of course your path will be unique to you, but sometimes there will be similar roadblocks they can help you avoid.
Accountability - Once you decide to improve your sleep, sometimes being accountable to person outside of our circle of familiar family and friends will be more effective.
Important: Sleep coaching is not the same as seeking treatment for a diagnosis or medical condition. Please consult your medical professional if you feel you have a sleep disorder.
Schedule your FREE sleep strategy call.
During this call we will discuss your unique sleep issues by gathering more information.
Then we will decide together how and if we move forward together.

___________________________________________________________________________________________________
Catherine works with people who want to improve their sleep without using pills. Together they create a structured program that not only helps people identify thoughts and behaviors that prevent sound sleep but also helps them replace habits that can worsen sleep problems. Unlike sleeping pills, this program will provide you with the tools and support necessary to overcome the underlying causes of sleep issues.