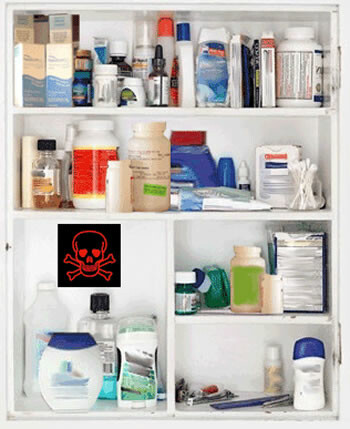 3 Dangerous Chemicals to Remove Now
The sad fact is that one in eight of the 82,000 ingredients used in personal care products are industrial chemicals which are not healthy for our bodies or the environment. It takes a lot of time and energy to research the products listed on the labels and translate that into how it impacts our health.
Learning about the toxins hidden in the products we use every single day can make the difference between health and health issues.
Unfortunately, these toxins continue to collect in our bodies, and over time, cause a significant BODY BURDEN. We may not understand how many toxins have accumulated and how big that burden is until we find ourselves in a health crisis.
IT'S IMPORTANT TO PAY ATTENTION TO WHAT YOU ARE PUTTING ON YOUR BODY IN ADDITION TO WHAT YOU ARE PUTTING IN IT.
26 seconds is all it takes from the time something touches our skin, until traces of it can be found in every organ of our body. EVERY ORGAN OF OUR BODY. Every organ of our children's bodies.
We can't emphasize this enough. Everyone's skin is porous and can't block the toxins from entering our bodies.
This is why we encourage you to care

about the level of toxins in your daily care products. This is one of the huge reasons we started searching to find alternatives to our store bought goods.
The Toxic Substance Control Act of 1976 grandfathered in an estimated 65,000–100,000 chemicals currently on the market today. They have had no testing to determine if they're safe.
WHAT DOES THAT MEAN TO YOU?
Simply put: These chemicals have not had any safety testing and we know very little information about their effects. Of the chemicals tested, toxic labeling is required only if 50% or more of the animals tested with a chemical die. Under the TSCA, manufacturers are protected by trade secret laws that allow them to keep their ingredient lists a secret.
ONE OF MANY REASONS TO AVOID TOXIC CHEMICALS IN THE HOME
There are several things you can do around your house to reduce or prevent your exposure to toxic chemicals. Starting with not allowing the really harmful ones to enter into your home.
To help you take a small step toward creating a healthy home, we suggest you eliminate the ones on this list:
1. FRAGRANCES
It's nearly impossible to know the ingredients that actually make up a fragrance because the word 'fragrance' on a label often hides a toxic chemical mixture of multiple ingredients that the manufacturer claims must remain private so no other competitor can steal their 'secret sauce' recipe. In essence, this 'trade secret' is a convenient and sneaky way to hide a cocktail of ingredients, many of which are considered carcinogens. Unfortunately the fragrance industry is primarily self-regulated, so fragrance cocktails don't even have t be reviewed by regulatory agencies.
2. PHTHALATES
These hormone disrupting chemicals are typically found in the chemical cocktails of fragrances to help the smell last longer. Just one more reason to avoid anything with fragrance as an ingredient! Phthalates are a group of chemicals that make plastics more durable. People are exposed to phthalates by breathing phthalate particles in the air, and by eating or drinking foods that have been in contact with products that contain phthalates. Avoid plastics with the recycling codes 3,6 & 7 and fragrance to avoid a host of health concerns including respiratory problems, reproductive issues and developmental problems in unborn children.
3. SLS AND SLES
SLS (Sodium Lauryl Sulfate), and SLES (Sodium Laureth Sulfate) help create that sudsy/foamy experience that we associate with cleaning power. we say...BACK AWAY FROM THE SUDS!! They are linked to a multitude of health risks including eye irritation, organ toxicity, reproductive toxicity, neurotoxicity, endocrine disruption and ecotoxicology. These chemicals are typically listed on ingredient labels so avoid any product that lists these.
You can make great progress toward a healthy home by avoiding these 3 chemicals. We encourage any progress toward removing toxic chemicals, no matter how fast or slow.
___________________________________________________________________________________________________
Catherine and Elizabeth have been helping people detox their homes and choose to live green for over ten years. We say detoxification is a process, not a destination. New chemicals are constantly being introduced to the market and keeping them out of our homes is something we all must be very diligent about.